tarpon
Global Moderator







member is offline




Hello everybody!!!http://carpersdrea m.proboards33.com





Joined: Jul 2004
Gender: Male


Posts: 393
Location: skegness

Le Val Dore
« Thread Started on Jul 4, 2004, 10:58am »

---

LE VAL DORETEXT

Le val dore' is a complex of three tree and reed lined gravel pits,located in northern france and only 90 minutes away from Calais or le Havre....

The lakes,set within the "Vallee de la Bresle", are 20 years old.

38 Acres* 3 lakes* 20 swims*.

Carp,Sturgeon,Grass Carp and Catfish.

biggerst catfish is 145lbs the average is 40lbs.

Carp up 56lbs, Sturgeon up 40lbs, Grass Carp up 30lbs.

TEL: (33) 235 941212

Website: valdore@club-internet.fr
or: info@valdore.com

www.valdore.com


---

I was here,but now i'm there.

BCAC Member.


camo
Administrator


member is offline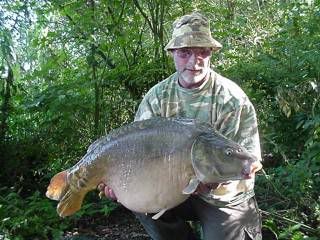 Tight Lines





Joined: Jul 2004
Gender: Male


Posts: 455
Location: Kent

Re: Le Val Dore
« Reply #1 on Aug 7, 2004, 4:11pm »

---

Just had a look at the web site sounds good, think I may have to have a trip out there next year, as I have booked all my holidays for this year.

---

Tight Lines Camo

Member of E.C.H.O

English Carp Heritage Organisation

Sponsored by Premier Bait & Tackle
tarpon
Global Moderator







member is offline




Hello everybody!!!http://carpersdrea m.proboards33.com





Joined: Jul 2004
Gender: Male


Posts: 393
Location: skegness

Re: Le Val Dore
« Reply #2 on Aug 8, 2004, 8:31am »

---

Heres some more information for you camo.



: Nicolas Waucampt <levaldore@tiscali.fr>
Subject : Le Val Doré: Carp & catfish lakes in France - Specimen fishing.

Dear sir,

If you want more information or doing a booking please call on :
a.. 00 33 608 109 134 (please choose at first ) weekly days from Monday to
Friday after 8:30 pm to 10 pm French time - (7:30pm to 9:30 pm British
time). we speak good English at this number.
b.. (33) 235 94 12 12
c.. (33) 623 69 12 00
ATTENTION our NEW email address : levaldore@tiscali.fr
We are open all year and specifically in winter.

We have so much carps and big one so we feed them in winter and always be in
activity.

Winter time is a real impressive fishing time at our lake !!!

We are really close from England : only 1:15 hr from Calais by motorway A16
and A28 (direct). Easy for a short or long session.

With kind Regards

Le Val Doré



2 TONS OF NEW CARP IN OUR LAKES IN NOVEMBER 2003 !!!

NEW 2003: BIGGEST FISHES CAUGHT THIS YEAR

a.. catfish : 140 lbs.
b.. carp : 2 fishes of 55 lbs - lake 1 and lake 2
c.. sturgeon : 40 lbs
d.. grass carp : 42 lbs
NEW 2004: BIGGEST FISHES CA UGH THIS WINTER

Mirror carp 56 lbs on February 3rd 2004 by Mr Balle (fr)





Deposit can be paid by phone with credit card number (no charge for you)

BAIT BOATS For hire at our lakes...(19€ per day)





Nice to see you at our lake



FROM CALAIS

take the A16 (the final leg of which is a peage) to wards Boulogne. At
Abbeville, take the A28 towards Le Havre.

You exit this road at BLANGY SUR BRESLE (The exit is t the bottom of a huge
hill). As you come off the main road turn right (look the panel Le Val
Doré - refer to small map). The lake is also sign posted from here (The
Super U supermarket is 100yds to your left).

Stay on this road following signs for Guimerville, turn left at the end of
the village, it is now half a mile to the lake. At the entrance to the lake
complex cross the tram lines and go over the small bridge follow the track
alongside the stream to the gates, club house/reception is just beyond.

Now using your map and the above directions, you should have no problem
reaching your destination.

ROUTE ASSISTANCE

We recommend that you purchase a map (we use the Michelin Motoring Atlas of
France) before venturing to France in your car. You will find this very
useful for locating the small local towns and villages for any shopping and
indispensable should you get lost!

The Auto Route (peage, so named because you pay to use it), is by far the
simplest route to take and has regular service stations with excellent
facilities. There are other rest stops but please note that these only
provide French toilets. On entering the Peage take the ticket from the
machine, you pay when you exit the road with either French Francs or credit
card. Allow £4 (6 € each way).

The speed limit are, 130 kph (81mph) when the conditions are dry and 110 kph
(69mph) when it is raining. You will be driving on the right hand side of
the road (J hope!). Please make sure that you have a 'green card' on your
motor insurance and carry a copy of all your vehicle documents with you.

You must also display a GB sticker, have a warning triangle in your
vehicle, carry a spare set of bulbs and don't forget to convert your
headlamps for left hand drive use.

This the law in France.

Your journey from Calais (or Le Havre) to the lake should take approximately
1 :30 hours, you should aim to arrive at the lake at 12.00pm at the
earliest. Plan your journey accordingly. If you have caught an early ferry
then we suggest you use one of the rest stops on route and/or do some
shopping you will then arrive at the lake both refreshed and prepared for
your first nights fishing.




---

I was here,but now i'm there.

BCAC Member.


nesser
1 ROD



member is offline







Joined: Feb 2006
Gender: Male


Posts: 1
Location: co durham

Re: Le Val Dore
« Reply #3 on Feb 27, 2006, 1:18pm »

---

val dore now has 4 lakes
tony thompson
Guest

Re: Le Val Dore
« Reply #4 on Feb 6, 2008, 9:43am »

---

can you send me any dates for april or may 24 till 31 please